Get your website built today. We go beyond delivering sites, but help you rank and get customers.
You are Ready to Build Your Brand and Increase Revenue!
Market Researched Website Design
We create your website right the first time.
We perform market research for every project to ensure we grasp all the requirements and develop a solution that meets or exceeds our client's expectations. By examining each proposal, we establish the client's objectives to ensure they align with their long-term benefits. Leveraging our extensive experience creating tailored web experiences, we assist our clients in identifying the website that will generate the most long-term value for them.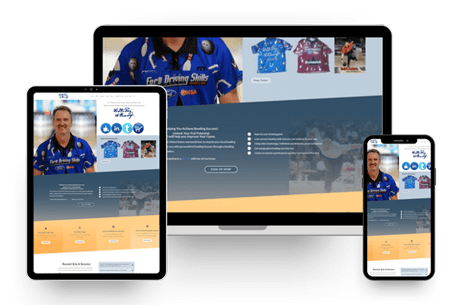 Conversion Web Design Services
Pretty website are great, but paying customers are better.
Your website is more than an aesthetically pleasing representation of your company, it is your online sales funnel. We create conversion-optimized websites that are focused on driving traffic to your website and turning them into customers. Through extensive market research into our client's industry, we create a strategy that gets results.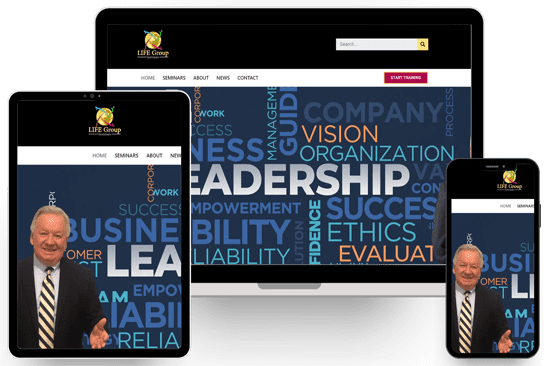 WordPress Content Management System
Used by more than 30% of all websites on the planet
We provide a great website-building experience to our clients with a professionally built WordPress website. It comes packed with features including being built with the Elementor page builder that allows clients to edit their website with great drag-and-drop features. We also provide training videos for every website we build.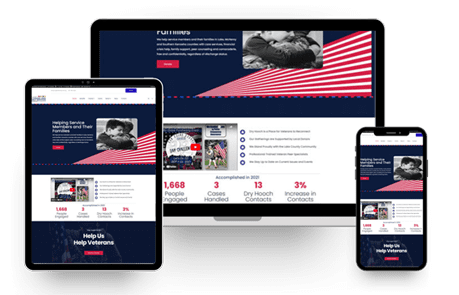 GET A FREE WEBSITE CONSULTATION
How to create a high converting website
The only reason to create a website is to accomplish a goal, this can be sales, leads, or audience engagement. You want a company that will create a website that meets your goals.
Design based on user intent.
As you work on your future website, you will learn the common search engine optimization (SEO) phrase, "user intent". The largest search engine on the planet, Google has advanced algorithms to determine user intent and if your website meets the user's intent.
Design with user flow in mind.
It's important that your website looks professional, is modern, and loads quickly. The most important aspect is the accomplishment of your goals and lead conversions. A great way to do this is through clear user flow, helping the customer navigate your website to maximize your conversions.
Design to get web traffic.
Anyone can create a website these days, but creating a website that gets traffic is a different situation. Some web designers will take your content and just add it, they will let you tell them what you want and not make any suggestions. This is because they don't know how to properly build a website that gets traffic. We will make sure to inform you of the best way to add content on your website that targets the right customer base and provide you with the best chance of beating the competition.
Our website design process
After more than 19 years of working with clients across many industries, we have developed a streamlined process to complete websites quickly and correctly. We are based in Richmond, Virginia (VA) web design company, but work with clients all over the USA, Europe, and Canada.
The first thing we do is speak with you and learn about your business. This includes learning about your current website if you have one, what you like and dislike, and how we can help you.
Now that we have discussed your industry and other important information. We begin a deeper dive into the industry and any competitors.
It's time to start developing a plan for the structure of the new website. This includes creating a sitemap that will provide the structure. We will come up with a wireframe that we will follow to complete the web design.
Now we take everything prior to this step and pull it all together in the design. We will make sure to design around our market research as well as the input of our clients to ensure their brand is properly represented in the new design.
All designs are properly created for desktop, mobile, and tablet devices. Once complete, you are provided with a link to approve prior to moving forward with everything else.
Development, Testing, and Launch
This last phase involves many steps. You've approved the design, and now we complete the remaining pages of your new website, add content, optimize for search engines, have the customer test website, and approve to go live.
Details of what will happen in this phase:
Development – We will complete the remainder of your website by adding additional pages per the sitemap.
Search Engine Optimization (SEO) – Every website is built following good SEO practices such as ensuring your metadata is updated, image alt tags are complete, and focus keywords are properly integrated on each content page.  This is the part of the web design process that makes sure your website will be discoverable through proper SEO practices.
Testing – We have completed your website, now is the time for you to test and approve. You will be provided with a link to go through all of the web pages and ensure it meets your expectations.
Go Live – We will move your tested website from our server to your domain and make it live. After this, we will provide you with login information, video training, and support.
We enjoy educating our clients on maintaining their website easily and how to get new visitors to their website. Follow us to stay up to date on the latest search engine marketing strategies, local client targeting, WordPress help, advertising and more.