Introduction to increase website traffic
Search Engine Optimization (SEO) is the key to search engine rankings and even a company with a product not worth buying can do well with great SEO. Your rank in search engines is crucial to your success. In this article, we will discuss some simple steps you can take to improve your search engine results positions (SERP) as well as the tools to monitor your efforts.
Search engines, especially Google are looking for trustworthy websites that meet users' intent and they are getting really good at reviewing websites for key indicators of this. The likelihood of your website being found without putting in the effort through SEO is pretty low unless you have a very unique niche.
Please understand, besides SEO you should still think about investing some money into Google Ads, Social Media Ads, and writing content, content, content.
There are so many things that have to be done with SEO both on and off the website. The time it takes to get ranked high in the search engines depends on the niche, how many competitors you have, and how much time you can put in.
As you begin your SEO journey, remember rankings change daily so do not get discouraged because you were ranked #1 and then the next day you're not. Keep working on your website's on-page and off-page SEO.
Tip #1 Long Tail Keywords
We are a web design company and would love to rank #1 for the keyword "web design", however, that is an extremely competitive keyword and we just can't compete with companies that have larger pockets. What we can do is identify some long-tail keywords that we may be able to rank for. 
Have you ever started typing something in Google and it starts providing you with suggestions? Many of these suggestions are long-tail keywords.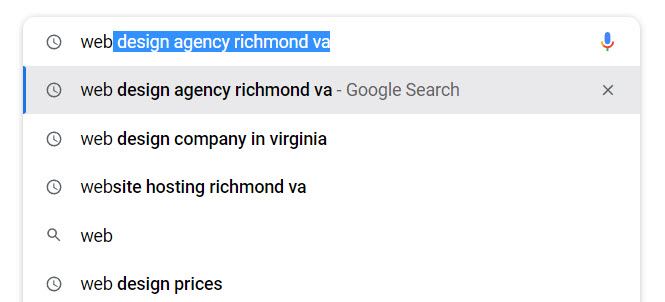 Although these are great suggestions from Google, we could use some more. There are a couple of ways to do this, do a search for "long-tail keyword generator", there are many free resources available. Another option is to go to Google Ads and use the keyword planning tool. The keyword planning tool generated over 748 suggestions with great stats to help me find some content I can possibly rank for with the keyword "web design".
Once you've identified the long-tail keyword you'd like to use, now just write some content around that keyword and you should be well on your way to increasing website traffic.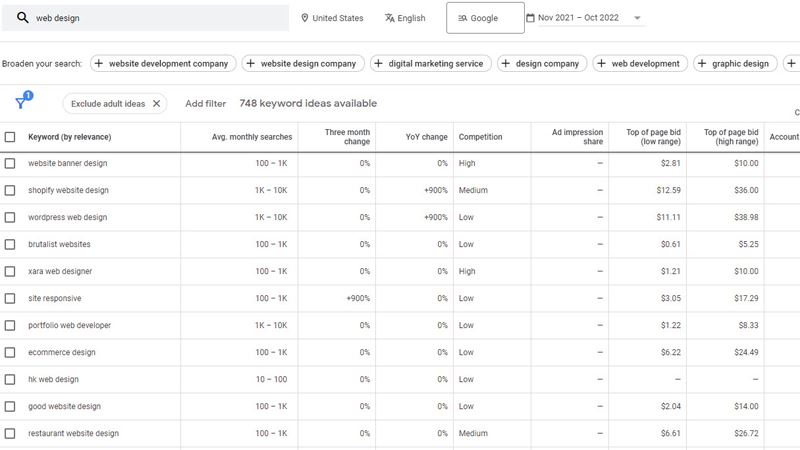 Tip #2 Affiliate Marketing
Another great way to increase website traffic is to start affiliate marketing. This is an excellent way to have others do some of the work for you. Some simple steps to get started with affiliate marketing are:
Create an affiliate marketing account. This can be as simple as going to clickbank.com or cj.com and creating your account.
Do your market research and prepare content. Now you need to follow some of the advice earlier about keywords. Go to Google Ads and identify some keywords around your product or service so you can prepare a landing page.
Create a website or landing page. This is where you decide if you need a separate website for your affiliates to point to or just create a landing page on your current website.
Advertise your program. You can run some Google Ads or advertise on Social Media platforms like Facebook, Tiktok, etc.
Tip #4 Switch to WordPress
WordPress makes up over 35% of websites in the world. It is the most popular content management system (CMS) on the planet. It constantly gets improved and is great for SEO. We highly suggest you are using WordPress, while Joomla and Drupal are great, WordPress in our opinion and most of the planet is the best.
Tip #5 Understand Google Ranking Factors
There are possibly over 200 Google ranking factors that go into deciding where your website ranks among the competition. You can do a search for that on your own, what we will discuss here are the five main categories to consider when updating your website to increase website traffic. There are five key factors to consider which are Meaning, Relevance, Quality, Usability, and Context.
Meaning – Google has created systems to try and understand what a user types in their query and provide the best results. For example, if you type "change a light fixture", the system knows you may be asking "how to change a light bulb" and provide relevant results. As suggested earlier, it helps to research your keywords through the Google Ads keyword planning tool to have the best results.
Relevance – Following "meaning" is analyzing your website content to determine if it contains the information a user is actually looking for. An example is if a user types in the keyword "lawyer", Google is not looking for the word "lawyer" repeated numerous times, they are also looking for relevant keywords related to lawyer. These keywords could be property law, law office, probate, tax attorney, litigation, etc…
Quality – It is more important than ever to have quality content on your website, at least 1,500 words or more. Google is looking for content that demonstrates expertise, authoritativeness, and trustworthiness. It can help if other websites are referencing your website as an authority from their websites.
Usability – There are so many websites out there competing against you. To give yourself the best chance of increasing your website traffic, you need to make sure your website is accessible and mobile-friendly. It's now about the user's page experience. Your website should load quickly and be easy for visitors to use.
Context – This is more about the user than your website, but understanding this should give you clues as to what content you should be focusing on. When someone does a search, Google will look at your search history and location to determine the best results. An example if you wanted to know about Boston basketball, you'll probably see the Boston Celtics as a result. It's important that if you're a local business, your content is optimized for those results and even if you're not, you should understand the search engine factors.
Tip #6 Anatomy of an Authoritative Website Page
Every website page you create should at a minimum follow these guidelines to help increase website traffic. There are numerous on-page and off-page SEO items for you to complete, this is a broad overview of those items and you should do some more research about each topic mentioned below.
Website URL – Your website URL structure is important and search engines take that into account on determining the importance of a web page. If you have a larger website, organizing your URL structure is important. Something to keep in mind is how many levels down your web page is. An example is you have yourdomain.com/web-design. So web design is the first level and search engines will recognize that as important. Then you have yourdomain.com/level-1/level-2/level-3 which may not get the same weight as level 1. This is something to keep in mind as you create your website URL structure. Note – eCommerce websites should be properly organized into categories and products, so that would be the exception to the rule.
Website Title Tags – The title tag of this page is "Increase Website Traffic" and is a relevant title for this page. It is important that you ensure your title tags are properly named.
Header Tags – You will notice I have several header tags colored in blue above. The first title tag is an H1 which is the main title tag the page is about. Then you create other header tags such as H2, H3, H4, H5, and H6. 
Content and Keyword Density – No one knows the exact keyword density percentage that is the magic number. The consensus is somewhere between 1% and 3% is a good amount. Do a search for a keyword density checker if you need to check your website, with WordPress there are SEO plugins that will check this for you as you type.
Latent Semantic Indexing (LSI) – When you write your content for your website page, you should also write around keywords that are similar to the focus keyword. Google has algorithms that can identify what a page is about and they want to provide useful content to their users. It is important that you provide longer content that meets user intent when they do searches. You can find some sample LSI data by doing a google search for your focus keyword, then at the bottom of the search engine will be a list of LSI searches. You can also search for an LSI generator, but don't pay for them, there are plenty of free ones out there. See the example below.

 Descriptive Image Names and Meta Data – This is simple, when you upload an image make sure you name the image something descriptive, primarily something with your keyword. If it has nothing to do with your keyword, do not name it as such. It is important to have at least one image file with your keyword. In addition to the image filename, make sure the alt text is also completed with the keyword.
Internal and External (Outbound) Links – Something Google uses to identify authoritative and helpful websites are the resources being recommended including within your website and external to your website. By linking internally to other pages within your website and creating outbound links to authoritative websites, the search engines see your website as informative and useful to the user.
Write Articles – The last thing you need to do is constantly write articles. This will help increase your website traffic based on targeted keywords. Your articles should be based on the various targeted keywords your website is about. If your website is about dogs, you should have some articles about how to care for dogs, training dogs, or other articles related that helps search engines further determine what your website is about.
Tip #7 Tracking Website Traffic
We've discussed several things to help you increase website traffic. Now we need to discuss how to track website traffic using various tools available to you.
Google Search Console – One of the first things you should do after you've completed your website is set up the Google search console. This will help you increase website traffic by improving website content based on keywords your website is being found for. The search console does several things for you:

Search Traffic – You will be able to see the search traffic your website is being found for and know where improvement is needed.
Be Found – This is where you submit your sitemap and get added to the Google search engine. Make Sure, you submit your website to Yahoo and Bing which is done on their pages.
Issue Alerts – Google will send you alerts of any issues with your website that affect your search performance. 

Google Analytics – This system provides you with some great analytics. You can identify entry pages, where users go after the entrance, then exit. How long did they remain on your website, and much other useful analytics will help you increase website traffic. In addition to Google Analytics, you should also add Google Tag Manager to your website.
Bing Webmaster Tools – You should also add Bing webmaster tools to your list of websites to register your website with. Google, Yahoo, and Bing are the major players in the internet search world and you should be added to all of those sites. To add your website to Yahoo, just simply add your website to Bing and you will be covered.